Movement
Solar Butterfly, an energy-autonomous House
Larso, the Solar Butterfly is a solar energy-powered giant motorhome and studio. Equipped with the newest, clean technologies, the Solar Butterfly is a role model for sustainable living.
This first-of-its-kind project is a collaboration between Swiss universities and engineers. It aims to bring attention to climate-friendly solutions with its tour in different parts of the world. They are embarking on a world tour to visit and present all the existing ideas, projects, and companies with solutions to climate change.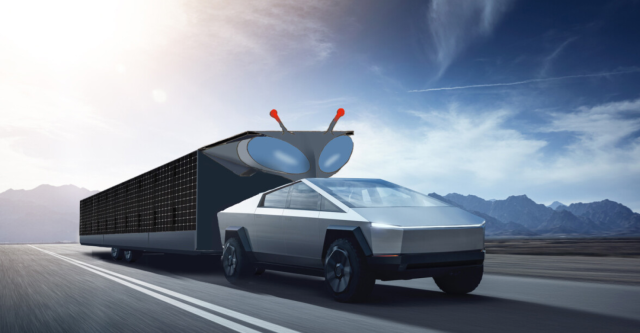 This week you'll get a chance to meet Solar Butterfly
Tartu Autovabaduse Puiestee has been hosting entertaining and educational events for many years, bringing culture to Tartu city centre. Our Solarstone team has been present there during Rally Estonia.
We'll meet again when Tartu is visited by Solar Butterfly – the world's first solar-powered mobile home. On the 28th of July, everyone will be able to learn more about Solar Butterfly and its mission and listen to exciting discussions on climate issues.
As a special treat, we'll also get to see Solaride, the first solar car constructed in the Baltics, built by Estonian students.
On Friday, the 29th of July, Sunly and Cleantech Estonia will host the Solar Butterfly World Tour in Tallinn's Pirita TOP harbour.
Don't miss Solar Butterfly
The eye-catching design of a butterfly is great for getting attention. A giant motorhome turns into a butterfly at the push of a button, with its large wingspan to collect the sun's energy. All that attention is put into good use during the solar energy-powered world tour. Travelling around the globe, Solar Butterfly team addresses climate change as a problem and showcases a variety of climate-friendly solutions. Solar Butterfly team firmly believes that these solutions need a breakthrough.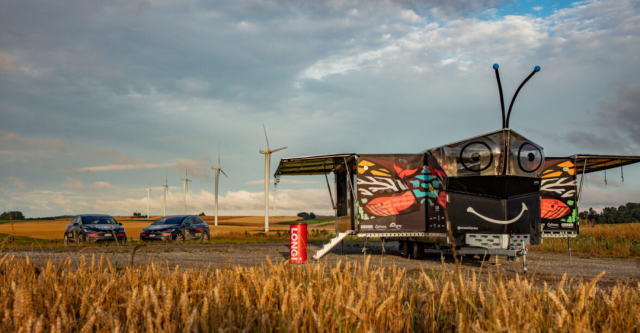 Sustainable choices exist
The Solar Butterfly is built mainly from material that is produced from waste plastic bottles from the Ocean. Around 800 kg of PET bottles were collected and recycled primarily in the walls, the solar panels and the furniture of the Solar Butterfly. Sophisticated, flexible furnishing allows changing the living room into a bedroom, dining room, exhibition room, or even a video studio.
The rainwater collected on the Solar Butterfly's roof and wings will be cleaned and purified for drinking. As you might have guessed – water is heated by solar energy only.
Heating is also quite crucial in cold areas of the world. To save energy, the Solar Butterfly uses energy-efficient electric heating technologies. No gas at all.
The world's first tiny house is producing enough solar energy not only for the home but also for charging the battery of the towing electric car. Lightweight solar panels are made of Ocean PET. They weigh only 4,3 kg per square meter, compared to 16 kilograms if conventional panels are made with glass. This groundbreaking technology enables cars and trucks to produce their solar energy. This technology has massive potential for making transportation cleaner and energy independent worldwide.
With 120 m2 of solar panels and a cell efficiency of 24 %, SolarButterfly can easily produce up to 170 kWh of solar power per day. This enables one to travel up to 300 km daily with no emissions.
The solar energy stored in a battery makes the Solar Butterfly an energy-autonomous house.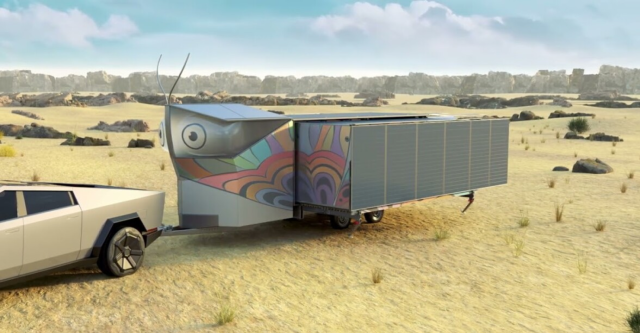 Events around the world
To create attention for a specific project, one needs the press. For that, Solar Butterfly team makes events around them. They plan to visit over 1000 projects in 4 years on 6 continents and create events with the local population, the schools, political leaders and the press.
After the start in Berne in May 2022, they travelled around Switzerland and visited all 26 cantons for 3 weeks. Then Solar Butterfly will travel around Europe, visiting almost every capital city, until the end of October.
Solar Butterfly will always travel in the spring, summer or autumn months. This is easy… when there is winter in the North, there is summer in the South.
Next winter, they will stay in Switzerland, preparing the tour across North and South America. After visiting South American countries, Solar Butterfly will launch itself into the next adventure across Asia, Australia, Africa and Western Europe before arriving in Paris on December 12, 2025, for the 10th anniversary of the Climate Agreement.
For the team, it's essential to cover a minimum of kilometres by boat. Also, they will organise an electric vehicle on every continent so that the Solar Butterfly will be shipped from one mainland to another.