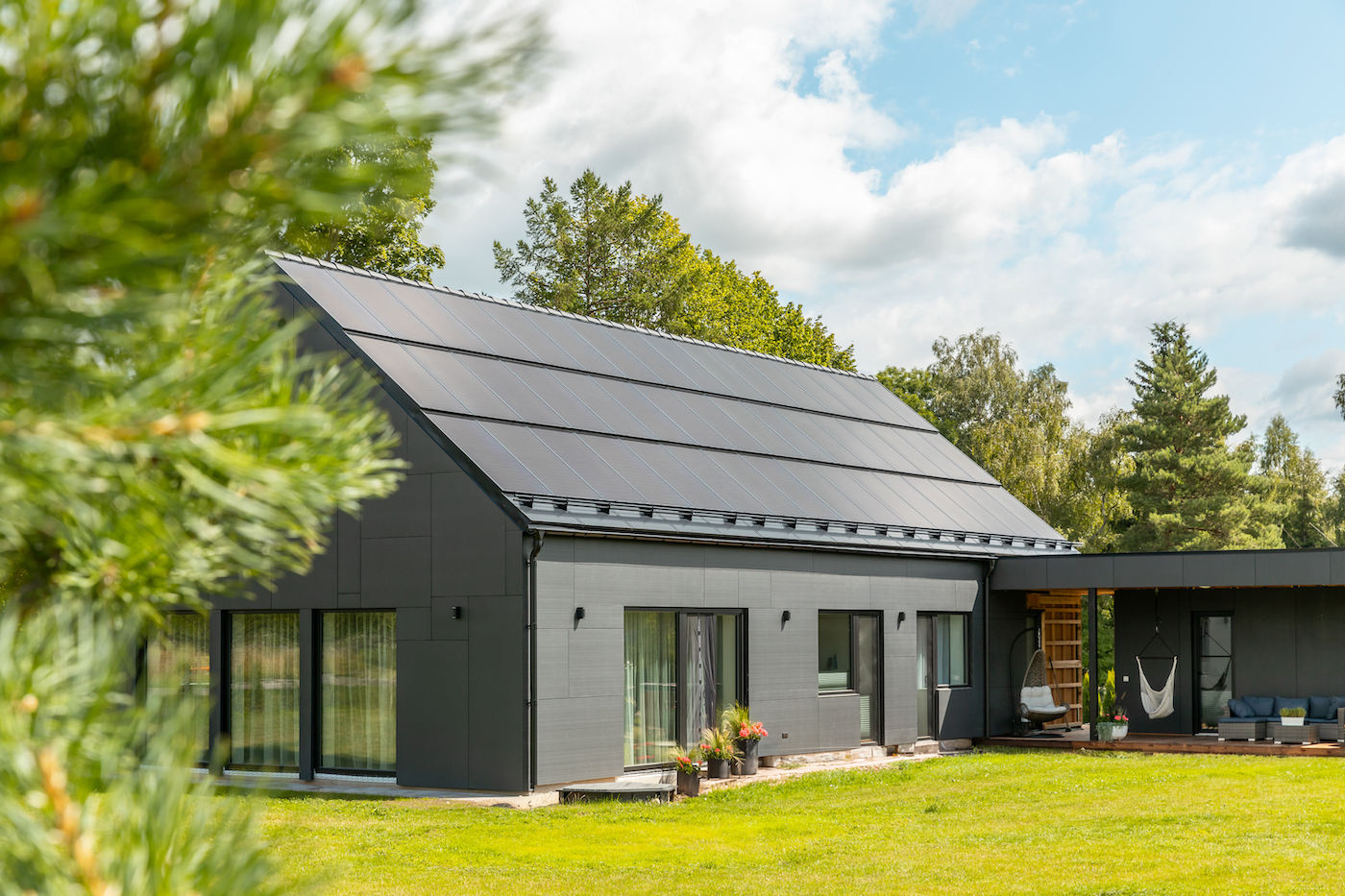 Back to products
Solar Full Roof™
Embrace the synergy of style and sustainability with our Solar Full Roof™. Seamlessly integrating advanced solar technology into the architecture of your home, this solution transcends conventional rooftop installations.
Guided by our patented Click-On® technology, the Solar Full Roof not only preserves the original aesthetic appeal of your house but also drives down the cost of separate installations.
Experience the marvel of this two-in-one powerhouse as it lights up your home and your savings.
Product specification
Installation manual
What is Solar Full Roof™ and who is it for?
Your roofing material reimagined
Reimagine your roof with Solarstone® Solar Full Roof™, a turnkey solution that merges pioneering photovoltaic modules into your building's very essence. It goes beyond being an energy-efficient alternative - it redefines traditional roofing by becoming the roofing material itself.
Our Solar Full Roof™ is designed to grace the entire roof facet with solar panels, embodying a perfect blend of form and function. Our tailored dummy modules ensure a flawless, modern solar roof aesthetic wherever there are obstructions.
And for those preferring the charm of conventional roofing, worry not. Solarstone® panels can meld seamlessly with your chosen roofing material through our specially designed transitional joint flashings. Dive into the future of roofing, where solar panels are the new norm.
Integrated design & cost efficiency
The Solar Full Roof™ is more than just a solar panel system; it's a smart architectural solution that enhances your property's aesthetic and functional value.
Our integrated design marries solar technology with contemporary architecture, allowing the panels to blend seamlessly into the building structure.
Moreover, replacing conventional roofing materials and solar installations with an all-in-one system can save significantly on installation costs and maintenance over time.
Roofs with minimum pitch of 18°
Solarstone® solar modules are innovatively crafted to adapt to every kind of sloped roof, requiring only a minimum angle of 18 degrees.
This requirement is pivotal to maintain the water-tight integrity of our building-integrated solar installation, ensuring your roof stands firm against all weather conditions.
Ideal for futureproofing
The Solar Full Roof™ is perfect for those looking to make a long-term, sustainable investment in their property.
Whether you're a homeowner wanting to reduce your energy bills and boost your property value or a business aiming to demonstrate your commitment to sustainability and lower your operational costs, our solar roof solution provides an elegant, efficient way to harness solar energy.
By choosing Solarstone, you join a community of forward-thinking individuals and businesses shaping a cleaner, greener future.
Solar Full Roof™ Specifications
25-Years
Power Output Guarantee
10-Years
Product Warranty
Fire Rating
Broof(t1)(t2)
Worry-free process
With our worry-free delivery process, you can sit back, relax, and leave the entire solar roof installation process to us.
Consultation and Design Phase

Estimated Quotation

Engineering & Agreement

Installation

Connection and Testing

System Handover

Warranty & Customer Support
Explore
Adaptable elegance
Seamlessly blending obstacles into architectural aesthetics, our dummy modules ensure a uniformly sleek and modern appearance for your solar roof. Regardless of architectural interruptions or unique roof features, our dummy modules maintain the visual coherence of your solar-powered roof, demonstrating that practicality and style can go hand in hand. With Solarstone, your solar roof is not just a functional asset but an aesthetic masterpiece.
Explore
Effortless Installation, Uncompromised Safety
Solarstone® professional installer team ensures your solar roof is set up with precision and safety. Trained to the highest standards, our experts efficiently handle the installation process, adhering to rigorous safety protocols. With Solarstone®, you enjoy the benefits of clean energy without any hassle, knowing your solar roof is in the hands of experts who prioritise your safety and satisfaction. Experience renewable energy confidently, courtesy of Solarstone®'s commitment to quality and safety.
Meet our partners
Why choose Solarstone®?
Highly Aesthetic
Our solar roofs are equally suitable for churches in the Nordics and villas in the French Riviera.
Cost-Effective
Our solar roofs are not only sleek and modern but also cost-effective. Solarstone® offers prices competitive with conventional on-roof solar installations.
Easy to Install
Solar roof installation is easy and efficient – a simple obstacle-free gabled 80 m2 Solarstone® Solar Full Roof can be completed in just 1 day.