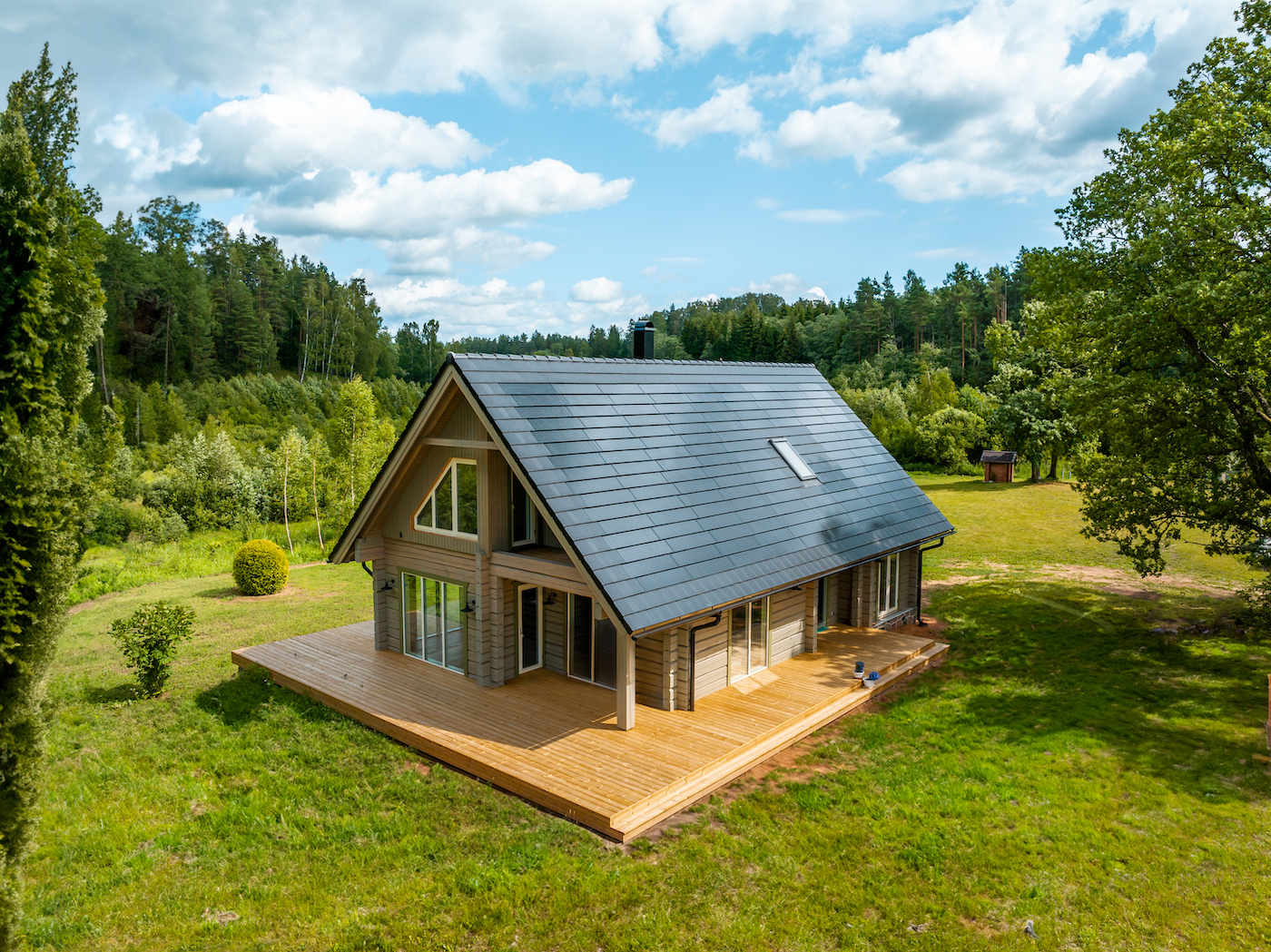 Back to products
Solar Tiled Roof™
Introducing: the seamless meeting place of functionality and sustainability. Solar Tiled Roof™ combines solar and roofing functionality into a perfect energy production system without compromising the visual appearance of your home. The building-integrated modules for tiled roofs interlock with nearly all flat concrete and clay tiles, leaving your home as beautiful as it ever was.
Product specification
Installation manual
What is Solar Tiled Roof™ and who is it for?
Solar panels are the roofing material
With Solar Tiled Roof™, 5 or 6 flat roof tiles get replaced by 1 solar module with a guaranteed seamless transition. The Solar Tiled Roof™ is an embedded in-roof system that is easier to install than regular tiles and requires minimal maintenance. The panels for tiled roofs are robust, tested and function as permanent roofing material. If you are after an aesthetically pleasing look that lasts, Solar Tiled Roof™ is the option for you.
Modern and elegant
Solar Tiled Roof™ makes your home look elegant and modern by seamlessly integrating solar panels directly into the roof along with roof tiles around the perimeter.
Roofs with minimum pitch of 18°
Solarstone® solar modules are designed to be installed on all types of sloped roofs, with a minimum angle of 18 degrees. The requirement is necessary to ensure water-tightness of the installation.
Doesn't require expensive mounting systems
Say goodbye to costly mounting systems! Solarstone®'s solar modules are placed directly onto wooden battens which allows for a more streamlined installation process. The result is a 2in1 installation process which is less costly and less complex than experienced with conventional rooftop solar mounting systems.
Solar Tiled Roof™ Specifications
25-Years
Power Output Guarantee
10-Years
Product Warranty
Fire Rating
Broof(t1)(t2)
Invest in your future
The Solar Tiled Roof™ provides significant savings on energy costs and reduces your carbon footprint. The product is not over-engineered, resulting in lower installation costs and minimal disruptions – all while creating a durable solar roofing solution that lasts for decades.
Built to Last
Solarstone® BIPV panels are designed to give you clean energy and protection for decades. The panels are strong, tested and function as permanent roofing material. With a 25-year Production Warranty you have less concerns about energy bills and price fluctuations.
Enhanced Solar Energy Production and Protection
Solarstone® provides a complete selection of accessories to optimize the performance of your solar roof. Our solar panels can generate sufficient amounts of energy even on roofs with challenging angles and shading. Coupled with a solar battery, there's no need to worry about high energy prices.
Why choose Solarstone®?
Highly Aesthetic
Our solar roofs are equally suitable for churches in the Nordics and villas in the French Riviera.
Cost-Effective
Our solar roofs are not only sleek and modern but also cost-effective. Solarstone® offers prices competitive with conventional on-roof solar installations.
Easy to Install
Solar roof installation is easy and efficient – a simple obstacle-free gabled 60 m2 Solarstone® Solar Tiled Roof can be completed in just 1 day.