News
Czech Republic rooftop solar subsidy New Green Savings Programme
It's an exciting time for energy in the Czech Republic, as the nation pours an additional CZK 55 billion (EUR 2.3 billion) into the New Green Savings program, which provides significant funding for homeowners to install rooftop solar PV systems as well as other energy-saving measures in the residential sector.
Rejuvenation of the Green Savings Program
In response to the energy crisis and an upsurge in interest for energy-saving subsidies, the Czech government is refueling its New Green Savings program. Originally initiated in 2014, the program has already made a significant impact, supporting 180,000 households with CZK 22 billion in funds primarily directed towards rooftop PV rebates.
Previously focused on promoting energy savings through the renovation and construction of low-energy family and apartment buildings, the New Green Savings program has seen a remarkable shift. Applications for the subsidy exceeded all expectations, with a record 110,000 households applying since October 2021 – a number surpassing all applications from the previous seven years combined.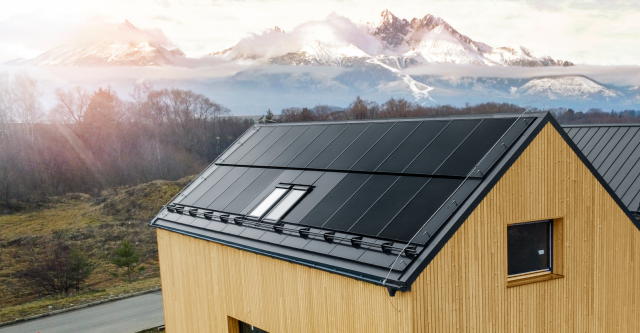 How much can you save with the solar subsidy?
The actual amount of funding you may receive can depend on several factors such as the size of your rooftop solar system, your income level, and availability of funds in the program at the time of your application.
The percentage of the total cost that you can save depends on certain factors:
Regular Savings: Generally, the subsidy will cover up to 50% of the total eligible costs of your rooftop PV system. For example, if your solar PV system costs CZK 100,000 (approx. EUR 4200), the program could potentially provide you with a subsidy of CZK 50,000 (approx. EUR 2100).

Low-Income Household Savings: If you're classified as a low-income household, you have an opportunity to save even more. The program provides an additional "boiler subsidy" which, when combined with the standard subsidy, can cover up to 60% of the total eligible costs. This means if you're a low-income household and your solar PV system costs CZK 100,000, you might receive a subsidy of up to CZK 60,000 (approx. EUR 2500).
What improvements are in store?
The updated program will be simpler and more efficient. There'll be fewer administrative hurdles to jump through, and you won't need to submit invoices and project documentation. Additionally, the program aims to make subsidies more accessible for vulnerable groups like senior citizens and low-income households.
Here's what you can expect:
Simplified Process: Less bureaucracy and potentially quicker approval times.

Relaxed Criteria: Some of the eligibility requirements will be eased, increasing the number of households that can benefit from the program.

Reduced Paperwork: The obligation to submit invoices and project documentation will be removed, making it less time-consuming for you to gather the necessary documents for your application.

Targeted Support: Subsidies for more demanding home modifications will be automatically increased, and the support will be specifically directed towards buildings where the impact of energy savings would be the highest.

Additional Funding Opportunities: There will be new subsidies available to replace old gas boilers with heat pumps, including grants for retrofit installations.

Increased Accessibility: The program aims to make subsidies under the New Green Savings more readily available for vulnerable groups, including senior citizens and low-income households.
When does the updated solar rebate program start?
After a brief operational break to set up the new procedures, the program will relaunch in September 2023.
What should I do if I have a project in progress?
If you're already in the middle of a project, it's recommended to submit your applications by June 30, 2023, according to the current conditions. More detailed conditions of support in the revamped program will be gradually introduced in the coming months.
Who can apply for funding?
If you own a family house or an apartment building, you can apply for the program. People or companies involved in the construction of new family houses and apartment buildings can also apply. This means if you're building a new property, you can take advantage of the program to implement energy-saving measures from the get-go.
How can I apply?
Applications can be submitted to the State Environmental Fund of the Czech Republic either before, during, or after your project. You can do this continuously until June 30, 2025, or until the funds run out. To apply, you can visit the Czech website www.novazelenausporam.cz.
If you think you may be eligible, it's a good idea to apply as soon as possible to ensure you don't miss out on the opportunity.
Solarstone solar roofs fit perfectly into the scheme
Installing Solarstone solar roofs counts as an energy-saving measure eligible for a subsidy under the New Green Savings program. Solarstone solar roofs are designed to seamlessly integrate into the roof structure, replacing traditional roofing materials with 2in1 photovoltaic panels that generate electricity. Some benefits include:
Material Savings: Traditional rooftop solar installations require a fully completed roof on which solar panels are installed as an additional layer. With Solarstone, there is only one layer - the solar roof itself. This means fewer materials are needed, reducing costs and waste associated with additional roofing layers.

Labor Savings: By combining the roofing and solar installation into one process, Solarstone solar roofs require less labor than installing a roof and solar panels separately. This streamlined installation process can save on labor costs, reduce the time for completion, and minimize disruption to homeowners.

Aesthetic Advantage: Traditional solar panels are mounted on top of existing roofing materials, which can result in a cluttered or inconsistent look. Solarstone solar roofs, on the other hand, are integrated seamlessly into the roof's design, maintaining a sleek, unobtrusive aesthetic that many homeowners find more attractive.

Durability: Solarstone solar roofs are designed to withstand the elements just like a conventional roof, offering protection from the weather while generating renewable energy.
Our partner network reaches Czech Republic. Contact us or our local partner HybridHouse for more details.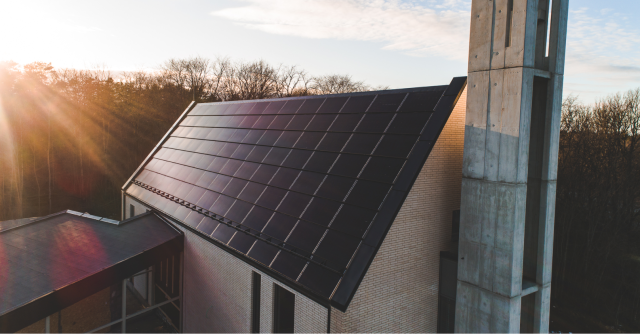 In conclusion, the New Green Savings program offers a significant opportunity to make your home more energy-efficient and to save on your energy bills. With the updated program coming into effect in September, now is the perfect time to start planning your rooftop solar PV system project.