News
Movement
Solarstone wrapped: a Year of Sustainability
At Solarstone, we have always been committed to supporting sustainability and green energy. In the past year, we have partnered with various events and initiatives to promote renewable energy and reduce our collective environmental footprint.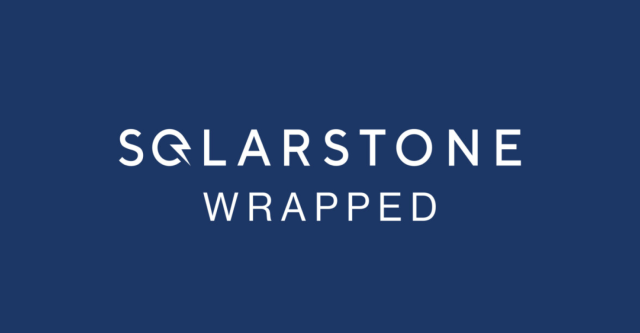 2022 was pretty crazy. Let's wrap it up!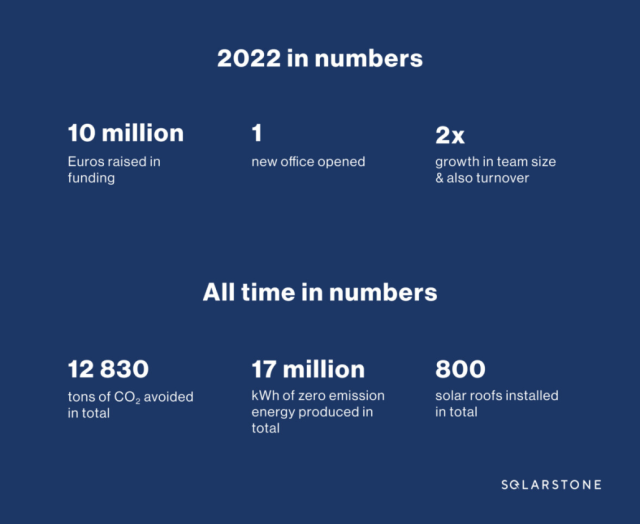 Supporting sustainability
Sustainable Racing with Solarstone at Rally Estonia
As the official green energy partner of Rally Estonia, Solarstone was proud to support the event's efforts to reduce its environmental footprint
This year's Rally Estonia, which took place from July 14-17, implemented an environmental policy and sustainable strategy, including using renewable energy sources. To contribute to these efforts, our off-grid demo container included three 15 kWh batteries, three inverters, and integrated solar panels. The container and Solar Carports combined provided power for the spectator area with green energy, also shade from the sun and the possibility for phone charging.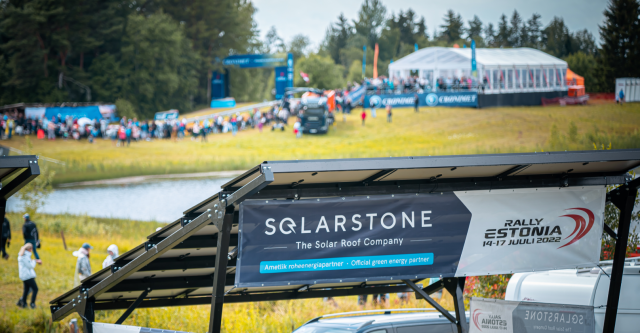 This event marked the first step in a larger plan to introduce renewable energy to the rally world. We are excited to continue innovating and supporting sustainable events in the future.
Read more about the event here.
Bringing Renewable Energy to the Viljandi Folk Music Festival
We love supporting events and promoting renewable energy. We have partnered with various events, including Rally Estonia, and our next venture was the Viljandi Folk Music Festival.
In July 2022, we set up a solar carport at the festival's main entrance, which offered protection from both the hot sun and rainy weather. The electricity produced by the Solar Carport was stored in batteries and used to power the lights and charge phones at the festival. We also brought 6.6 kWp solar panels, 12 kWh batteries, and inverters for visitors to see firsthand how solar energy can be converted into useful power.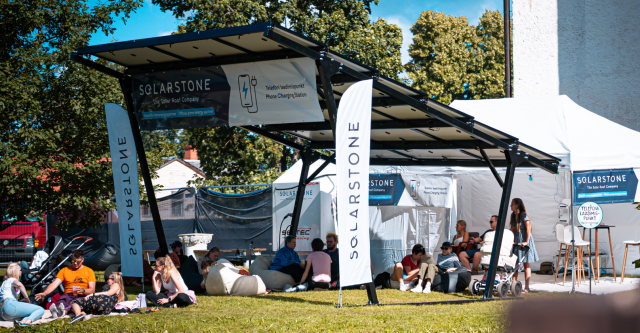 Our goal at Solarstone is to support events that promote sustainability and strengthen national character. Collaboration with the Viljandi Folk Music Festival was a pilot project, and we hope to expand our partnership in the future. The festival, which takes place in Viljandi Castle Hills and the city centre, values tradition, heritage, and local identity and aims to adapt spiritual values to contemporary life.
Read more here.
Estonian Motor Sports Academy Goes Green with Solarstone Partnership
Solarstone partnered with the Estonian Motor Sports Academy and the Local Initiative Programme to bring environmentally friendly electric motorcycles to the world of motorsports in Estonia.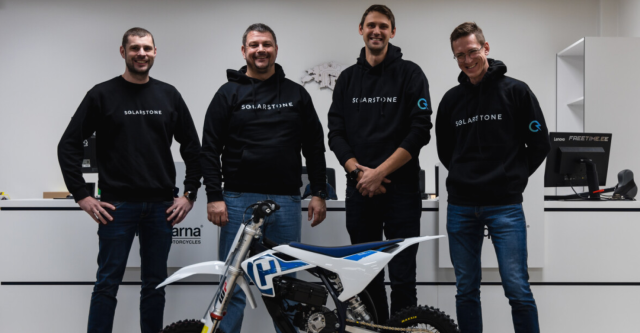 These electric bikes would inspire the next generation of motorsport enthusiasts to use renewable energy and help reduce emissions. Children use the electric motorcycle during weekly training sessions, and the academy provides the vehicle and safety equipment.
Solarstone supports initiatives that promote clean and renewable energy use and was excited to be a part of this project which focused on sustainability and a greener future for motorsports.
Read more here.
Solaride – Community of Innovators
As a company, we at Solarstone are always excited to support and work with the Solaride community. Their focus on education, cooperation, entrepreneurship, and innovation aligns perfectly with our values, and we are proud to be a sponsor and mentor for their projects.
Recently, we had the pleasure of hosting a Solaride meet-up day at our factory in Viljandi. It was an excellent opportunity for all inspiring sponsors, mentors, and Solariders to come together and share their enthusiasm and ideas. As always, the energy and spirit of the event were infectious, and it was a pleasure to be a part of it.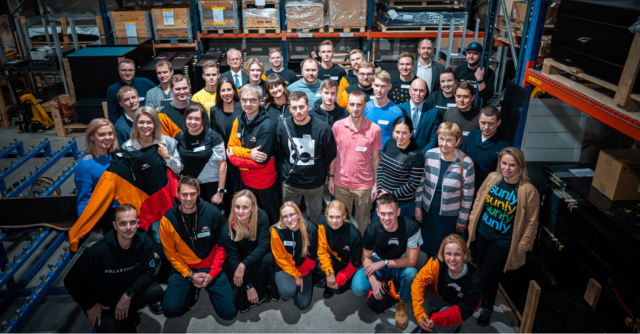 We are constantly impressed by the hard work and dedication of the Solaride team, and we are grateful for the opportunity to support their projects, such as their solar car. We look forward to continuing our partnership and helping them spread the word about sustainability and renewable energy.
Our support and mentorship will help Solaride reach its goal of participating in the international race in Australia. We are confident that their innovative and determined spirit will allow them to succeed on the global stage and continue to inspire others to join the movement towards a more sustainable future.
Solarstone's rapid growth and expansion
Securing €10 Million in Funding
We were thrilled to announce that we secured €10 million in funding to expand our building-integrated solar PV solutions across Europe and beyond. Our mission is to make building-integrated solar solutions the standard in residential and infrastructure construction.
We were thrilled to announce that we secured €10 million in funding to expand our building-integrated solar PV solutions across Europe and beyond. Our mission is to make building-integrated solar solutions the standard in residential and infrastructure construction.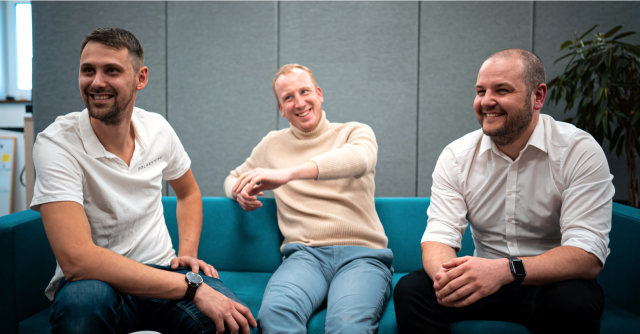 This funding round, led by Biofuel OÜ, came after installing our 700th solar roof in 8 countries. We believe that energy production and consumption patterns are undergoing a significant shift, with prosumer-generated capacities balancing the shortcomings of centralised energy generation. Our technology removes the barriers to making it profitable, beautiful, and climate-conscious for individuals and businesses to add solar directly to where they live or engage with their companies.
We are proud of what we have achieved and are grateful for the support of Biofuel and our other investor, Sunly, as we work towards a greener future.
Expanding Our Reach
Since founding in 2015, we've always been dedicated to building a strong, passionate team. We've brought on new talent in various roles, including proptech experts, to help us grow our private and business segments. And with this new funding, we've doubled our team.
We're also excited to announce that we've opened a new office in Tartu, which will serve as a hub for our proptech development and innovation. The expansion allows us to serve our domestic customers better and continue to push the boundaries of what's possible with building-integrated solar solutions. We're excited to see what the future holds for Solarstone and our team.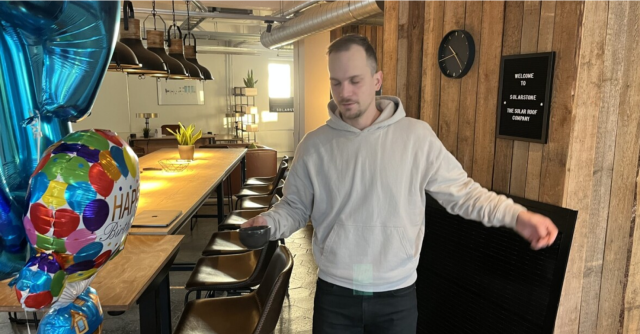 Looking Back on a Successful Year
As we reflect on the past year, we are filled with pride and excitement for all we have accomplished at Solarstone. From supporting sustainable events and initiatives to expanding our reach and introducing innovative products, we have been committed to positively impacting the world through renewable energy.
As we move into the new year, we are grateful for the support of our team, partners, and customers, and we can't wait to see what the future holds for us.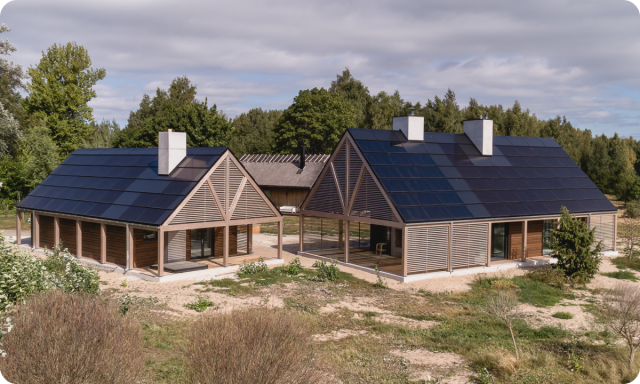 Stay tuned for updates on our exciting developments and achievements in 2023.